S
kincare is a subject near and dear to my heart, but it hardly gets addressed on this site. I guess it sometimes seems unfitting to gush about night cream while talking about shoes or whatever garment I'm obsessing over at the moment, but I figure variety is the spice of online content creation, so why not! I've practiced a strict wash/tone/moisturize regime since the tender age of 12 when I was introduced to Sheseido products (which I still hold in high regard), adding masks, exfoliants, serums, eye creams, and of course, sun screen as the years went on. Although the products I've used have changed over time, the process has largely remained the same... which served me well until the epic work load of 2013 took it's toll on my face.
Now I've been pretty luck in the under eye department all my life, never really having to wear concealer or any product other than my trusty eye cream. But this past year of late nights and terrible food choices (
see resolutions list
) got the better of me, and pretty soon my eyes looked haggered at best. So when a friend recommend I try the Tata Harper product line out, I figured I had nothing to lose (except some serious coin,
but that's another story
).
So I bit the bullet and shelled out for four products to start with, particularly hopeful about the eye cream. And you know what? It totally paid off. My dark circles faded away within a couple weeks and my eyes look more hydrated than ever — I was hooked. Now I'll be straight with you: Although I'm loving this combination of products together (see below), I'm not sure I'll be repurchasing this range again and again, as I don't feel the results are dramatically different from other products I've used to justify the cost, but the eye cream and I will be friends for a very, very long time... Of this I am certain.
In case you're curious about the product range, here's the low down on what I'm currently using:
invigorating toner that I like to kick things off with
after cleansing (I'm currently using
Kiehls' Ultra Facial
Oil-Free Cleanser
). It feels super fresh and helps prep
your skin for the moisture surge it's about to get from
the serum. I also use this bad-boy to set my makeup.
__________________________________________
Rejuvenating Serum
— This anti-aging serum is designed to boost the skin's collagen, increasing firmness, elasticity and all-around radiance. It also leaves your skin noticeably soft and smooth, which I would definitely recommend to those living in harsh winter climates — It's helped my skin a lot.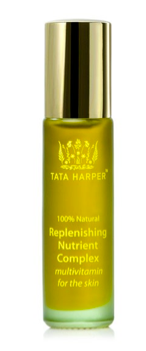 __________________________________________
Replenishing Nutrient Complex
— This little roller ball helps seal in moisture and protects your skin from environmental damage. It's like a multivitamin for your face, packing everything you need for a nice, youthful glow in the morning.
___________________________________________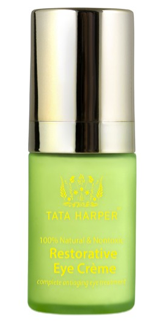 Restorative Eye Cream
— This miracle in a bottle (seriously though) is thick and luxurious, heavily hydrating skin while ironing out any fine lines you may have. And as I mentioned above, it did wonders for my dark circles. If you can only buy one Tata Harper product, oh please let this be the one.
__________________________________________
Thanks for reading friends, and if you have any skincare products you
swear by, I'm all ears! Let me know what's working for you (or what isn't),
or if there's anything you think I should try... And if skincare or beauty in general is something you would be interested in reading more about here on AiF, don't hesitate to let me know! I aim to please. xx