The holidays are always an amazing time of the year. All the joy and wonder in the air make festivities and celebrations an amazing experience for all! When you're planning out your holiday celebrations, events, and decor, make sure to keep in mind the elements that will really make an impact.
What are the Christmas decorating trends in 2021? How can you create a stylish, authentic, bright, and festive atmosphere during the Christmas holidays? What colors and what materials are best to use? Check out our suggestions below!
Our Favorite Christmas Decoration in 2021
Indoor Decoration Ideas
Christmas lights can completely change the look of your house and make it bright and festive, and it is a great way to decorate quickly without spending too much time or money. String lights are easy to integrate into your existing decor to add a touch of sparkle. Contact your local holiday lighting company to help with designing the perfect lights set up to match your vision and provide professional installation services. Teams like Five Star Holiday Decor can create a custom light display to complete your Christmas decor and have it safely and professionally installed to the exact measurements of your home.
The recent trend that continues from the last couple of years is Nature Inspired Christmas decor. Earthy palettes, muted and softer natural tones, and raw materials like wood, woven basket, rustic-looking fabrics, and textures.
Nature Christmas Decor
We can use the beauty of nature in decor – dried flowers, seed bulbs, moss, tree branches. Sustainability is becoming an integral part of life as we realize how fragile our planet really is, and luckily, nature has some amazing things to decorate with and admire.
Some people go as far as replacing the Christmas tree with a couple of branches to avoid tree wasting. Placing decorated branches on the wall near the dining table or in the living room can create a beautiful light-spirited atmosphere that is fun and can have a hint of kitsch or bohemian style.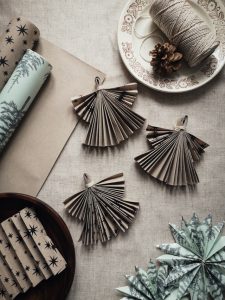 Artisan accents and DIY ornaments bring a unique style to your Christmas. And while supporting local artisans feels good, you can also find ornaments that are high quality and last a lifetime.
Choose the Right Christmas Decor Color
The traditional Christmas palette of Red, Green, Gold, and Silver is always a great Christmas choice, and using these colors will create the feeling of groundedness and being rooted in traditions. Green is the color of a Christmas tree or wreath. Evergreen plants of different kinds have been traditionally used for Christmas decorations in different cultures, so green is usually always present in Christmas time decorations.
All shades of blue are also great to play with for Christmas decor, and it combines well with Gold and Silver. You can use it in a wreath or decor elements such as tablecloths, candles, and candleholders. Just remember that blue is a "cold" color and if you like to create a warm and welcoming atmosphere, don't use too much of it. Soft and creamy tones, pink, and pastels are another trend for this season. These colors also combine well with traditional and earthy tones.
Gold and Silver are great Christmas colors and will add a touch of magic to your decor and combine well with other colors. Usually, it's nice to pick either Gold or Silver to compliment the other colors. Gold is a warm tone, and it will go well with other warm or natural tones, while silver is better paired with colder tones like blue or green.
Don't be afraid to experiment and create your own designs! It really depends on each color tone and the type of decor how it plays with other elements, and of course, it depends on the impression or feeling you would like to create.
Outside Christmas Decor
Outside decor usually consists of Christmas lights, wreaths, and decorated garlands. You can accentuate your roofline, your windows, or trees in the yard with different colors of lights and wrapping patterns. First, you need to make sure that the string lights and bulbs you are using are an energy-efficient LED bulb that is outdoor rated and safe to use in snow, rain or ice. The front door can be decorated with evergreen garland or adorned with fresh branches decorated with lights.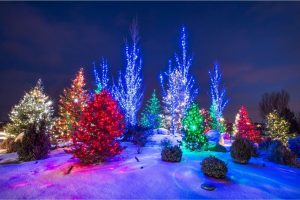 You can go as big as you like to create a festive atmosphere in your front yard and if decorating the roofline isn't something you can see yourself doing and you need help, you can reach out to Five Star Holiday Decor. It's a reliable local company that will help with the design and installation of Christmas lights.
Christmas porch display is another idea for outdoor decor. You can use boughs of greenery, lanterns with LED candles inside – they give out more light and are a safer choice. Create a vintage feel by styling your front porch with rustic-looking artifacts and old-school holiday decor.
In Summary
So, to sum it up, natural decorations and DIY projects, traditional Christmas colors, soft and earthy colors, and muted tones are your friends this Christmas season both inside and outside of your house. Use Christmas lights to bring in the atmosphere of magic and festive spirit. Whatever style you choose for your Christmas decor, don't be afraid to experiment, combine styles and ideas and reach out for support if you need it. At the end of the day, there are no wrong ways to decorate for Christmas!