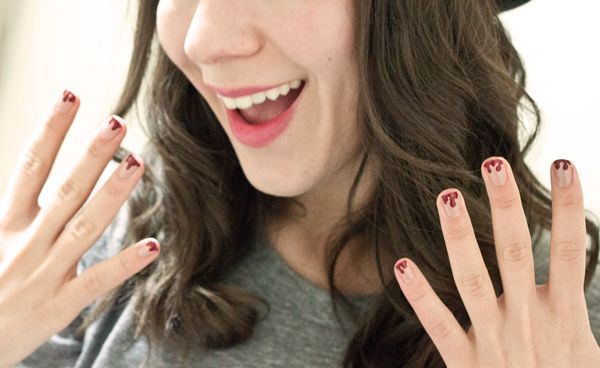 H
alloween is nearly here, and what better way to spread some ghoulish cheer than with a blood-drop DIY mani
a la
Prabal Gurung? This was beyond easy to do, and it took no time at all... So basically all you vampire-loving, Dexter-obsessed peeps have no excuse
not
to try this one. Here's what you need to do!
Step 1:
Paint your nails with a nude base coat to give them a clean, polished look. Alternatively, leave nails completely bare— it's up to you!
Step 2:
Dip a toothpick or bobby pin into a deep red polish and apply small dots at random to the bottom third of your nail (2 or 3 dots per nail looks best).
Step 3:
Drag the nail polish from the dots you just created down to the tip of the nail.
Step 4:
Repeat for all nails, finishing with a uneven horizontal line at the tip of each nail.
And that's it! For a mere 10 minutes of work, you've got yourself a creepy, yet surprisingly chic manicure... How's that for doing it yourself? xx